About Our Company
Here in our company, Paraa Rubber, all the human resources have committed themselves for the betterment of our clients. The goal is to deliver country's best rubber products like Rubber Molded Parts, Rubber & P.U. Spiders, Rubber Extrusion Parts, Rubber Compounds, EPDM Rubber Profile, Sponge Rubber Profile, Silicon Sponge Sheets, etc. for the customers in need. Today, we have become our clients' favorite Manufacturer and Supplier in the marketplace as we deliver them with products that are made up of naturally processed rubber. By delivering such perfections, we aim to satisfy their diverse requirements and become their first choice. We also aspire to make a strong and unbeatable position in the rubber industry, to accomplish this goal we have decided on implementing a further diversification of our assortment.
Our Core Strengths
The following are the core strengths of our Vadodara based business:-
Experience:-

Our mentors and team members hold a vast practical experience of the domain, it helps our company in bringing forth quality rubber products as well as customized dyes.

Quality:-

We are appreciated extensively in the market space for our range's unbeatable quality level and perfection. Quality is confirmed by using defect free raw materials and conducting strict inspections on the range.

Timely delivery:-

Our customers also prefer us over other options available in the market due to our commitment of timely delivery.
Company Background
We, Paraa Rubber, are a group that in engrossed in the development of innovative and quality accredited rubber products. We made a strong and distinct image in the market owing to our impressive talent to produce defect free Chemical Compounds and various other products. After a short period of our incorporation, we realized that our huge clientele had different requirements, to meet their individual needs we started rendering customization services. Today, we deliver tailor made rubber products to our clients with an aim to provide high gratification to them.
Industries We Serve
Owing to the flexible application of our offered rubber products, we have become a trusted choice in numerous industrial sectors like:-

Air conditioning industry
Textile industry
Fabrication/ engineering
Chemical and pharmaceutical
Rolling mills
Sealing and packing machines
Electric control panels

Automobiles
Printing machinery
ION exchange industries
Sugar and paper mills
Oil refineries and fertilizers
Food and beverages
Our Services
The services for which we are appreciated in the market are listed below:-
Rubber Molding
While rendering these services, we ensure that the natural rubbers & EPDM and other types of polymers used in the process are of finest quality.
Extrusion section
We own a spacious section where we process quality and reliable, flocked, solid & sponge rubber and co-extruded profiles by using robust metal inserts and various other articles.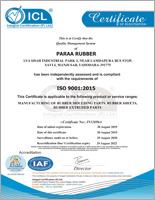 Read More